Dr. Dan Meader and his team are here to serve you.
Our Purpose is to help you have teeth that are comfortable,
healthy, function well, look good, and last a lifetime.
EXCEPTIONAL DENTISTRY FOR HEALTHY LIVING
A Beautiful Smile Starts with a Healthy Mouth
"Our dental practice wants to help you become the healthiest you can be. In the process we can enhance the natural beauty of your smile using the latest technology and advanced procedures. The results of our efforts mean that our patients have beautiful and long lasting smiles!
We strive to provide personalized dental care, which allows us to provide high quality dental services for our patients."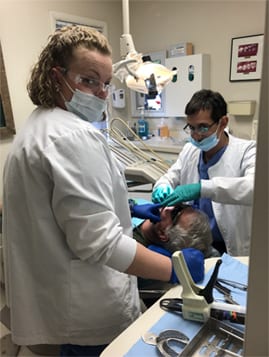 J Carter
The Transition
This was my first visit since Dr. Meader took over the practice from Dr. Jordan. My initial impression was that Dr. Jordan passed the practice into the hands of a very competent professional that will serve the existing client base well. Of course the existing staff is still the best in the business....... professional and very customer friendly. I think my future dental care is in good hands!
M Berley
The Greatest Dental Practice
I LOVE this dental practice. My family and I have been going to them for many years. I always get such great care, and the office's hygienists and staff are the best out there. You will never find a better dental office than this one!
R Gainey
Excellent Dental practice!
Our family has been going to Dr Jordan's dental practice for 25+ years and all of us have been thoroughly satisfied! Over the years I had all of my old fillings removed and the process with the mask they used to make you feel soooo comfortable was for me very welcomed! Recently I had what I feared was going to be a root canal because of the onset of pain I felt. Dr Dan confirmed that; took care of it right then, quickly and efficiently! No pain, no waiting!! While I will miss Dr Jordan, he is handing over his practice to a very good dentist who I will again know my dental needs will be handled painlessly and well done! Thank you both for your expert care!
A Brown
Great job!
Always a pleasure to see y'all. Excited for Dr. Jordan and what adventures await him. Pleased to meet Dr. Meader and look forward to working with him.
T Haynie
Great Experience
My experience was excellent. The staff has always been exceptional... and continues to be. They have always been critical to a great experience. Dr. Meador did a great job of explaining everything he was doing. I loved the detail.
A Adams
Awesome! Dr Meador and staff are...
Definitely a great dental office! Dr Meador is a very knowledgeable, second generation dentist. He is gentle, explains everything, no need to be nervous here! Support staff and hygienists have been with the office for quite some time. I have my cleanings here and have also had several fillings plus got fitted for a night guard.
C Stevens
Dental experience
The best experience. Could not be improved upon. Went over and beyond with cleaning, blood pressure check, Mouth exam for any irregularities, including gum diseases. All equipment state of the art. Dr Meadow and Anne Marie are very thorough, professional Kind helpful and nice! Highest accolades For them!
T Patton
SEMI ANNUAL CLEANING
Awesome visit!! Dr Meader is a hoot!! Very through exam, explained a procedure I need at a later date, my request, and I will have it done. Such a pleasant man. Enjoyed briefly chatting with his wife. Thanks to Dr Jordan for being my dentist for 38 years!! So happy the office staff stayed!! Yea!!
T Knowlin
Teeth Cleaning - excellent experience
I had x-rays done that were quick and very easy. In addition, my teeth cleaning went very well (as always--the staff is great) and it was pleasure to meet Dr. Meader. He was professional and very funny at the same time. He congratulated me on my upcoming wedding and assured me of the gift of marriage. Great visit!
R Goode
Review of my check-up
As always my visit was very pleasant. I certainly enjoyed meeting Dr. Meader. It always feels like I'm visiting family when I come to the office.
R Gainey
5 Stars!
Dr Dan and his assistant did a wonderful pain free job on the temporary crown they put in place. Love that nitrous oxide! Pain free and comfort is what I need at the dentist because of bad childhood experiences and that is what I got....just ask for it!
B Keitt
My new Dentist
I have a new dentist he is Dr. Dan Meader. Very very good & up to date on all the new dental treatments.
M Jones
Dental Implants
The staff, as well as Dr. Meader, are very professional and friendly. I would definitely recommend their services.
W Fortuna
OFFICE VISIT
Great once again, great techs, the doc was great, see you in April!! The front desk was over the top. I would highly recommend Dr Meader and his staff to my friends !!
D Yandle
Visit with Anne Marie
Always a great time spent with Anne Marie! Dr. Meader seems like a fun fellow as well! Love the pearly whites! I hope this is shared with her, she deserves many compliments! Looking forward to my next visit! Kindest regards, Debbie PS Thank you Sherri for following up otherwise, I would have missed my appointment.
B Higgins
Unabridged
I was pleasantly surprised that Dr. Meader and staff handled my bridge come loose with calm professionalism. I had been apprehensive since it just came loose this morning. I was also pleased to get good advice on how to improve my dental hygiene. I recommend Dr. Meader and his staff highly.
B Kamaris
Dental Hygiene
Dr. Meador has stepped right into Dr. Jordan's practice. Love working with Patty and Denise both very professional.
D Godish
Excellent Attention
As always this office performed exceptionally well. Always friendly but with exceptional focus on your oral health!
Anonymous
Awesome!
I love this place! All friendly and helpful. Dr Meader is super funny and very knowledgeable. I would recommend them to anyone!
R Newton
Great!
Anne Marie is excellent! She's done my teeth for over 25 years. She's the best!